Finding out you are ineligible for expungement can be discouraging, and the next steps are often difficult to navigate. But you are not alone! Many other Utahns looking to clear their record find themselves in a similar situation for a variety of different reasons. Often, not enough time has passed since a person's involvement in the justice system, the type of offense a person has is not eligible, or a person might have too many total cases to meet the eligibility criteria. Whatever your situation may be, a 402 reduction may help you become eligible for expungement.
What are 402 Reductions?
Named after Utah Code Section 76-3-402, 402 reductions (also called 402 motions), allow for the severity of certain offenses to be reduced up to 2 degrees. Being granted a 402 reduction can be especially useful to those who are currently ineligible for expungement because they are in a waiting period, have an offense type that is not eligible, or have reached the maximum number of cases of a certain degree allowed. For example, a 402 reduction can allow a Third Degree Felony to be reduced to a Class A Misdemeanor — going from an ineligible felony to an eligible misdemeanor.
During the 2023 legislative session, HB 174 expanded upon the 402 reduction statute. As a result, many Utahns who were previously barred from reducing their convictions became eligible to do so. These changes went into effect in May 2023 and included more flexibility around the completion of probation and parole. The new statute also specifies how the court evaluates whether granting a reduction is in the "interest of justice."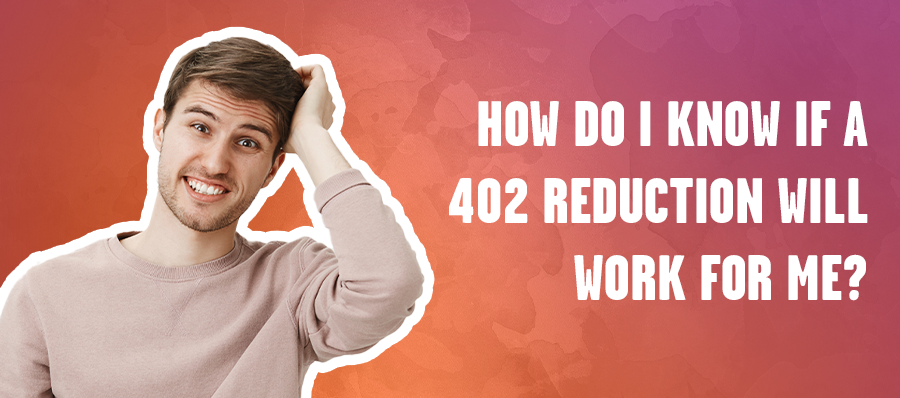 How do I know if a 402 reduction will work for me?
Deciding whether a 402 reduction is the right choice for you can be tricky. Though, a good place to start is by taking a look at the requirements described in the legislation. You may qualify for  a 402 reduction if the following circumstances apply:
Option 1:
You successfully completed probation or parole for the conviction(s) being reduced and,

It is determined a reduction is in the interest of justice.
Option 2
You did not successfully complete probation or parole for the conviction(s) being reduced, but you successfully completed probation and/or parole for a subsequent offense

and

,

At least five years have passed since the subsequent sentencing date or,

At least three years have passed since the subsequent sentencing date, if prosecutor agrees with reduction

and

,

You were not convicted of any serious crimes in time since subsequent offense and it is determined a reduction is in the interest of justice.
As with any other case, individuals are not eligible if they are incarcerated, currently on probation or parole, or owe court-ordered fines, fees, or restitution on the case.
What counts as in the "interest of justice?"
The statute also clarified what it means for a reduction to be in the "interest of justice," because this term is ambiguous, and was not defined before. Under the new law,  when deciding whether a reduction is in the "interest of justice," the court evaluates the following:
The nature, circumstances, and severity of the offense; 

Physical, emotional, and other harm caused and;  

If applicable, any input from the victim(s).
In some cases, other factors are considered, such as, but not limited to previous criminal history, employment and volunteerism, and completion of a rehabilitation program.
What is the process of getting a 402 reduction like?
If you qualify for a reduction, you can move forward with the process and file a motion with the court. After that, you will wait for the prosecutor to respond to your motion, and, from there, the judge will either grant or deny your reduction. The prosecutor is required to notify any victims involved and give them the opportunity to be heard. In the case an opposition is filed, the court will hold a hearing and you will be able to file a response. If your reduction is granted, the court will reduce the official severity of the record by one or two degrees. 
Importantly, only the degree of an offense is changed after a 402 reduction is granted. A conviction will remain on your record until it is expunged, and therefore show up on background checks and elsewhere until it is removed.
How can I move forward?
If you are still unsure whether a reduction is the best choice for you, Rasa's eligibility tool is a great place the start. If you use our tool and are not eligible, you can schedule a consultation with someone on our team to discuss your best options.If you are eligible for a 402 reduction, Rasa will file your motion with the court, attend any hearings, and help guide you through the reduction process, all while keeping you updated every step of the way.
Rasa has developed technology to streamline the reduction process, which allows us to charge much less than other lawyers. Rasa will represent you for $500 per reduction, or $250 per reduction if you are pursuing a 402 reduction to obtain an expungement, and you hire us to handle your expungement as well. 
A successful reduction can make you eligible for expungement, even if you were not before, allowing you to get your criminal record cleared. If you are interested in pursuing a reduction or want to discuss your eligibility, contact Rasa today!